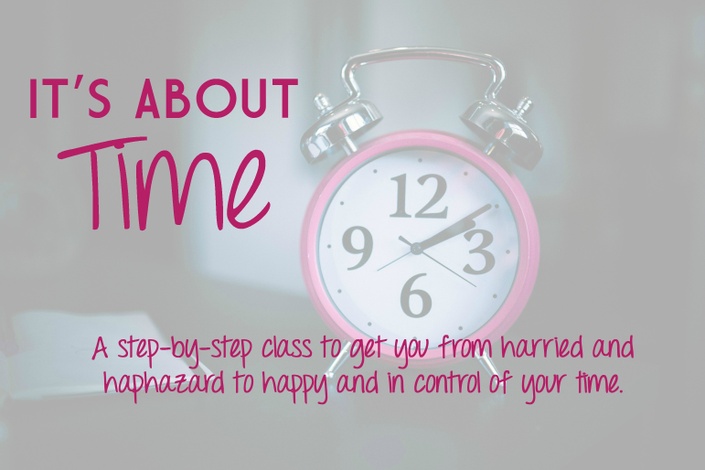 It's About Time
A step-by-step class to get you from harried and haphazard to happy and in control of your time.
We all have the same amount of time each day. What if you could learn to use yours smarter so you could get more done, be less stressed, and take better care of yourself, too?
Sounds like a pipe dream? Keep reading.
---


Do you feel like you're…
Spinning in circles, not sure where to start.

Your list is long. Most of it is necessary…you think. And you feel paralyzed.
Always running behind. Whether it's an important meeting, soccer practice, or prepping dinner, you can't seem to get it together and stay on top of the unending responsibilities.
Overwhelmed with the demands others make on your time. You're tired of the way others impose upon you and disrespect your time, but you have a hard time standing up for yourself.
If so, you've come to the right place.
---
Picture this:
Getting more done than you ever thought possible.

You prioritize with confidence, make a plan, and make it happen.
Finding the focus to accomplish your goals. Sure, you still get distracted at times, but you have the tools you need to get back on track.
Enjoying leisure time without guilt. Once you've got your time under control, taking care of yourself becomes possible, and you know it's a priority. So you do it. And, now that it's guilt-free, it's fun!
Boldly setting and maintaining boundaries around your time. You know how to say no when necessary, and you don't feel bad about it. After all, you know your priorities.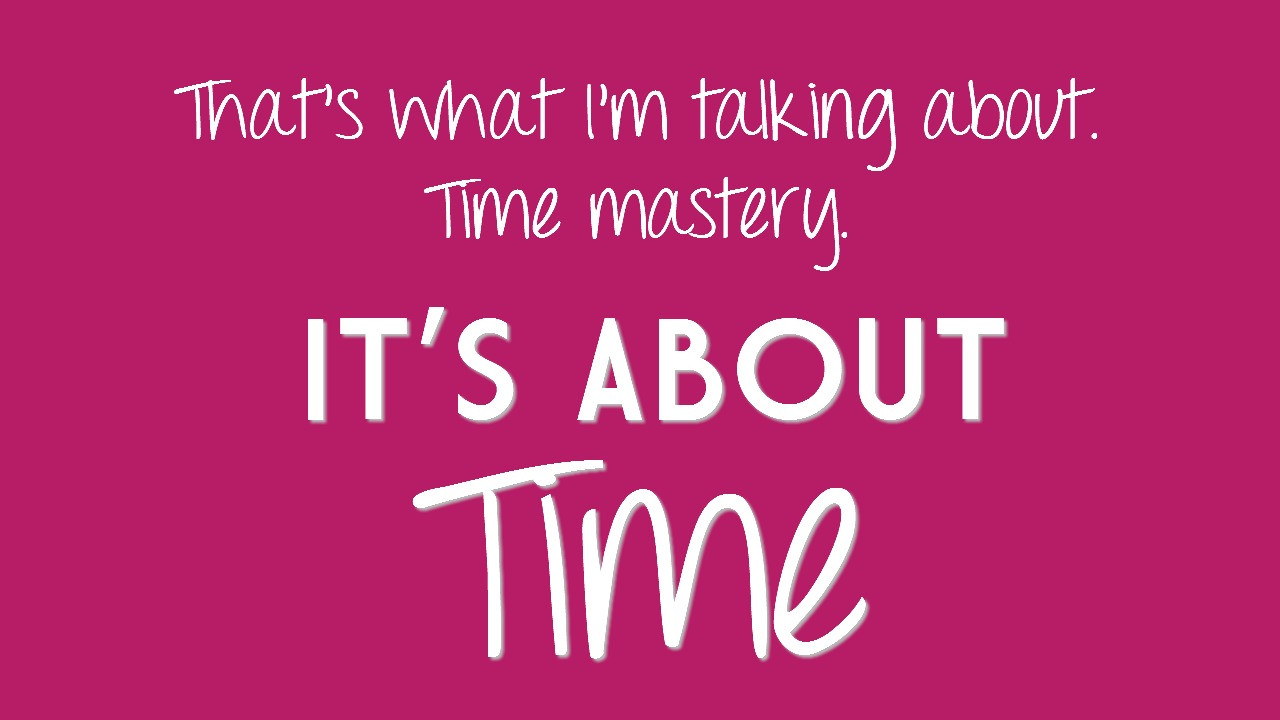 Why time?
Well, as a woman and as a mom, it seems like I never have enough. Throw into the mix working multiple businesses from home while raising and educating my young children,and life can feel like a constant state of overwhelm.
And some days it is. But I can always find my back, and quickly.
You see, I've learned through twenty years as an entrepreneur and four years as a parent that there are four specific keys to time mastery. They are:
Setting a foundation around systems that work for you;

Figuring out what motivates you, and using that as incentive;

Tricking your mind into finding and maintaining focus; and

Keeping your well-being a priority in the midst of life's demands.
---
So this class? What's it about?
I'm glad you asked.
Here's what you'll learn in each class:
Week 1: Laying the Foundation
Whether you've got some time management experience under your belt or are floundering while trying to find your footing, this session will provide all the foundational tools for time mastery. Some of the many things we'll cover include: tested and true methods for setting up your days for success, calendar management, scheduling, and apps and tools for the digital among us.
Week 2: Creating Forward Momentum
Creating and maintaining forward momentum is something we all struggle with from time to time. During this class we'll address the battle against procrastination. You'll learn how to prioritize better, ways to motivate yourself, and tips for getting unstuck when you've lost your mojo.
Week 3: Mastering the Art of Focus
Some say that focus is a gift, and while that could be partially true, anyone can develop better focus. In week three we'll discuss tips and strategies for staying focused and find ways to minimize distractions. If you're one of those who juggle multiple high-priority projects, you'll learn ways to address and accomplish all of them without feeling buried under the load.
And if you happen to suffer from ADHD, you'll find yourself among friends. The strategies we'll cover have been used by fellow ADHD friends and family during educational pursuits as well as everyday life.
Week 4: Finding your balance
Finally, in week four we'll be putting it all together. There is so much on all of our plates: how can we keep it all in balance? When is it time to switch from work mode to mom mode? How can you stay on top of both your career and your home? Where is the place for technology in your life? How do you handle interruptions when working and/or educating from home?
You also want to be sure that, even as you place higher expectations upon your time, others don't begin (or continue) to take advantage of you. You cannot care well for others without first caring for yourself. This means developing and maintaining healthy boundaries, even at times saying no to loved ones.

Live Teleclass Sessions

A video orientation will be uploaded on Monday, October 31st, which you will be able to access immediately. Starting the following week, each teleclass session will be recorded live and will be accessible via phone or the web. But if the timing is not convenient for you, we've got you covered. Once each session has been recorded, it will then be uploaded to the class site where you can access it anytime you like.

Transcripts will be available soon after the recording is uploaded. You'll also be able to access handouts and worksheets that pertain to the sessions. And even better? This information will be available to you for life! Once you enroll in It's About Time, it's yours forever.

Online Support and Community

Part of the class experience will include a private Facebook group. Here you can reach out to other students, share your thoughts, and learn from your peers. As with your access to the course, this community is yours to enjoy even after the class ends. Think of this group as your new time mastery team.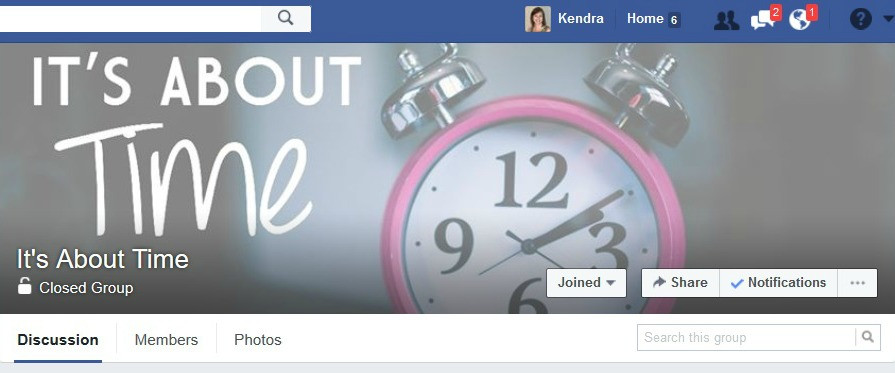 As a student, you'll receive an email from me each week, asking what further questions you have on the topics we cover. This way I can be sure to address everything you need and provide you the greatest learning experience possible.
1-on-1 Live Coaching BONUS!
As part of the class, you'll receive a 30-minute live 1-on-1 coaching call with me, which we will schedule after the conclusion of the third class. You will be able to schedule your call on a first-come, first-served basis. This bonus will need to be redeemed by January 31, 2017.

And for the first five students to enroll, this bonus will be doubled! You'll receive a follow-up coaching call, to be redeemed by March 31, 2017.

---
A little bit about your instructor…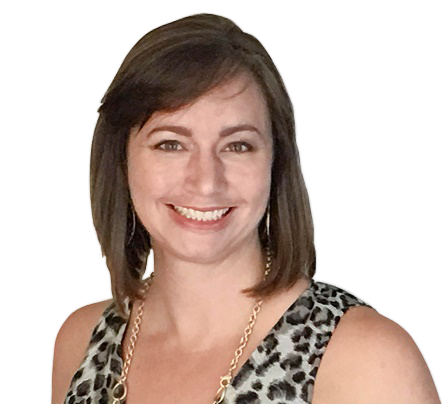 Hello there, future time mastery guru! I'm Kendra McDonald, the creator and author behind The Scattered Fashionista, a blog about time management, organization, and optimal living. I'm also a work-at-home mom with over twenty years of entrepreneurial experience.
Along the journey of being my own boss, I quickly learned that nothing happened unless I made it happen. Through many, many years of trial, error, coaching, and education, I've developed do-able strategies for managing my time, making smart goals, and prioritizing to get things done. This class is my way to save you those years I invested and fast-track your time mastery journey.
Do you want to get more done in less time? Are you looking for systems to make your life easier? With over 15 years teaching experience and 20 years of entrepreneurial experience, I'm your girl. I can't wait to share with you my secrets for time mastery as we seek to live and enjoy a better life.
Are you ready? Let's get started!
---
14-day Money Back Guarantee
It's About Time will give you the best time-mastery strategies I've curated over my 20 years in business. When you implement even one of these, I know you'll experience success and fall in love with this course. But if for some reason you don't, I will gladly give you a full refund within 14 days.
---
Now is your time.
If you're ready to leave behind your harried and haphazard life and trade it in for a greater sense of peace and control, It's About Time is for you.
Frequently Asked Questions
When does the course start?
A video orientation will be available on Monday, October 31st. Our first teleclass will be held on Monday, November 7th at 8pm EDT. Classes will be held weekly, and recordings will be uploaded to the school the following day.
What happens if I miss a teleclass?
No worries! Every class will be recorded and uploaded to the online course site, along with a transcript of the session.
How long do I have access to the course?
Once you enroll, the course is yours for forever. You can review the classes and materials at any time, and the Facebook community will be there for you, as well.
Couldn't I just learn these time mastery tips from a book?
You certainly could! It just might take you a while to gather them all. I've done a lot of the leg work for you and real-life research to make sure these tips work. Since this is a time-mastery course, my goal is to give you the most tools while also saving you the most time possible.
I've never purchased an online course, and this seems pricey. Is it really worth it?
You know, I've said the same thing about other courses and products I've purchased. Recently I made a big investment in my health, and the cost was what initially held me back. But here's what finally helped me decide: I need my health, or else I can't fulfill my responsibilities and be there for my people. So let me ask you this? What is mastering and maximizing your time worth to you? Can you put a dollar amount on what that would give you? This is a question only you can answer, but to help you with this decision I'm offering the 14-day money back guarantee. I'm confident that you'll be happy with your purchase.
This course is not open for enrollment.